Yesterday I went on a quite extraordinary studio visit to an artist that I've followed for a long time. It was extraordinary for several reasons, but mainly because the artist
Rodney Dickson
and I have got more in common than we'd both like to admit.
Visiting New York to research Outsider Art practice, my exploration so far has led me to believe that not only is the term unhelpful, but those artists who've experienced traumatic, and I mean truly traumatic, events, should come into a special category of their own.
Rodney has talked very movingly on
film
about losing his wife of 35 years, Juliet, who took her life almost 2 years ago, in 2016. Juliet took her life in their shared studio and living space after suffering from a severe and enduring episode of depression.
Our lives have crossed paths several times without either of us really realising it. Originally from Ireland, Rodney studied in Liverpool, entering the John Moores Painting Prize, the Prize I used to run. Rodney is one of the relatively few artists to receive a commendation, in the 1987 show.
During a splendid lunch (probably the best I've been offered by any artist during a studio visit I have to say!) our conversation turns from painting to our shared experience of being bereaved by suicide. Rodney has questions for me…lots of them!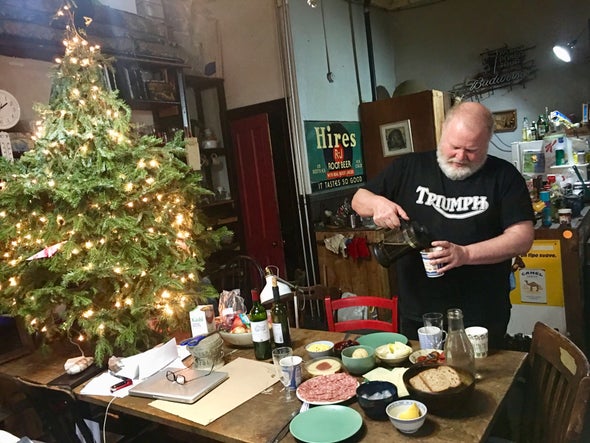 Rodney Dickson in his studio
Surrounded by his paintings, for the next 3 hours we talk about every aspect of our unwelcome shared experience. We talk about how it felt to not be left a suicide note. We talk about how it felt to be the person to find our loved one. We talk about our flashbacks, those lucid, 3D visions that drop in front of our eyes at the most inopportune moments. We talk about everything in a way that you can never really fully share with people who haven't walked your path. Although over a decade separates our experiences, we agree on many things; that neither of us would be sitting having this conversation without the love, support and understanding of those around us; that we accept that we'll never really have the answers that we crave and especially that talking helps.
It's when we discuss the transformative effect of our traumatic experiences that we both agree that once the worst thing has happened, it gives you a fearlessness, such that enabled me to make a
BBC film
about our shared experience, and then travel half way across the world alone.
For Rodney, he has developed the courage to not only pick up his paintbrushes again, but to embrace some significant changes in his painting style. "The day after Juliet died I decided that I wasn't going to paint anymore. There was no point. Eventually, after almost 9 months, I decided that I did actually want to paint again. It's who I am. The first time I stood in the studio ready to paint, my head began to throb with an intensity I'd never experienced before. It was like my brain had short-circuited. Everything had built up and it was too much to take. Over time, I stood in front of my paintings again, and, after that, the almost unbearable intensity started to reduce and, eventually, I could paint again, just as had before."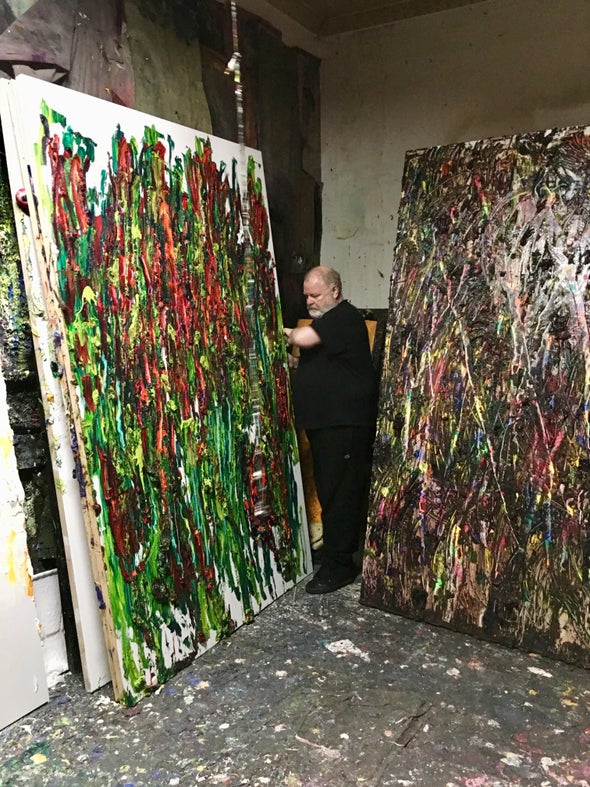 When you lose someone you love it becomes a line, a marker, in your history. Our life experiences are split in two. There's everything that happened before you lost that person, and then there's everything that's happened since. When we move across the studio to look at Rodney's work, that marker in his life is immediately evident in his practice. Rodney's paintings defy gravity with their heavy layers of oil paint, sometimes applied to the board straight from the tube. The once dark and heavy palette is now light and somehow more fragile. The surfaces are just as densely painted. The weight of the impasto and the texture created are mesmerising and as soon as I entered the studio I can smell the paint.
Once, every inch of the painting surface was covered in paint. Now some areas are left bare, revealing the raw surface of the board, exposing a vulnerability, rather than building a shield of paint armour in front of the viewer – a metaphor for what this experience does to you. It leaves you exposed, staring at parts of yourself you never knew existed, in a landscape that you don't recognise. Slowly, like Rodney's paintings, you regroup, build a different you with the same components, just put together in a different way, a new way.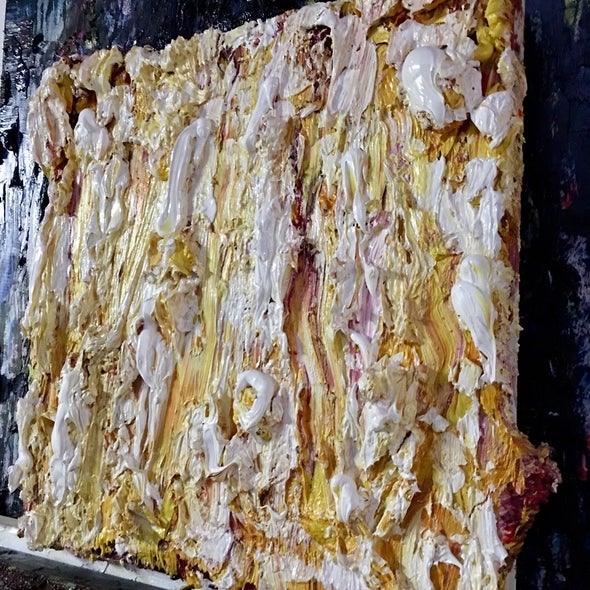 Painting by Rodney Dickson
Our mutual willingness to be open and honest about our shared experience, and our love of painting, evolved in an afternoon of intense and deep conversation.
Rodney walks me to the subway. It's easy to get lost in this part of Brooklyn, and I've never visited this neighbourhood before. As we say goodbye, I think we both know that although this was the first time we'd met, it was an afternoon that neither of us will forget anytime soon.