Agnes Martin is an artist who has always held a strange fascination for me and as I write this I'm sitting in a coffee shop opposite her old studio at 3 Coenties Slip, New York. I could actually cry at any second. Although I've wanted to sit in this exact spot for many years, I never expected to feel so emotional when it actually happened. Maybe I was a bit naive. I'll admit that I've actually google street-viewed this exact spot so many times that my search history probably indicates me as obsessive.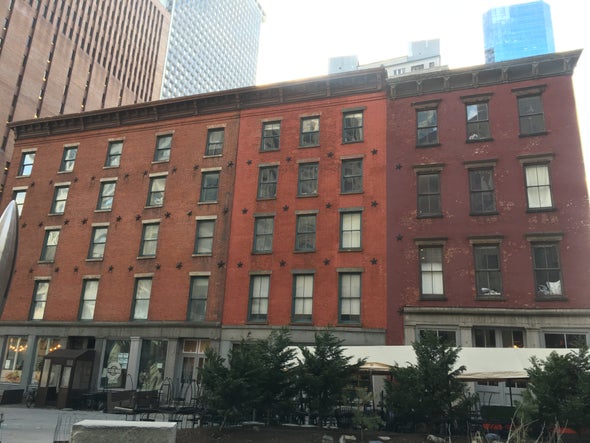 Agnes Martin's Studio today 3-5 Coenties Slip, New York
Really, it was my fascination with her grid paintings that first sparked my interest in so-called Outsider Art and those who make work that falls into this diverse category. I always knew that there was something about Agnes that no one seemed to be talking about, and it was during my research for my Masters in Art History and Curating, that I decided to write my dissertation about Martin's work. I was fortunate that Frances Morris, now Director of Tate Modern, shared my fascination and was researching Martin at the same time I was. Mine was dissertation research, but Frances' was for the Agnes Martin retrospective at Tate. Frances' knew that it was hard, almost impossible, to find the information I needed, and in one of the greatest acts of kindness I've ever been shown, she gave me access to her research – a shelf in her office with everything that you could ever wish for. I was like a child in an Agnes Martin sweet shop!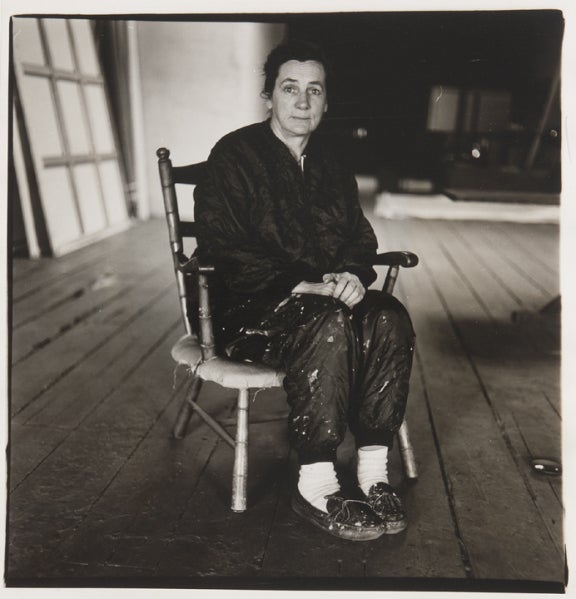 SILVER PRINT, 18 X 17 IN. GIFT OF D. FREDERICK BAKER FROM THE BAKER/PISANO COLLECTION, 2012.1.50
Agnes Martin by Diane Arbus (1966)
It was during this time that I read about Martin's diagnosis of Schizophrenia for the first time. Everything dropped into place. The missing episodes in her biography. The periods spent in hospital. The way Martin talked about the 'inspiration' that sent paintings to her as fully formed images, the size of postage stamps which she re-drafted onto canvas. The mystery about why she left New York so abruptly in 1967. Decades later Martin said, "I left New York because every day I suddenly felt I wanted to die and it was connected with painting. It took me several years to find out that the cause was an overdeveloped sense of responsibility."
Sometimes curators fall into the trap of pathologising art work once they discover that an artist has a mental health diagnosis. They believe that the paintings have been produced because of the diagnosis as opposed to the mental health issue playing some part, but not all parts. In a way, it's a good thing that Agnes kept her Schizophrenia secret from all but a few of her close friends. That way, her work has been protected for many years from this pathologising, and I hope it stay that way. Agnes Martin did not produce her work because of her Schizophrenia, but I do wonder whether her work provided some kind of coping mechanism, or had a therapeutic effect. When you look at Martin's paintings, the canvas is so controlled that it may have provided her with a level of control that fell outside of Martin's everyday exprience as someone hearing command voices that she didn't feel in control of.
Yesterday I visited the New York Outsider Art Fair. Many pieces of the work shown by the over 80 participating galleries was made by artists with a mental health diagnosis and I was really relieved to see that the agents and gallerists behaved more or less in exactly the same way as they have in every other art fair I've ever attended. They were definitely interested in sales and definitely looking over my shoulder to see if anyone interesting was coming through the door after me. I was worried that the same pathologising that Martin sometimes suffers, would be apparent here and that the work would be talked about in hushed, patronising tones, but nothing could be further from the truth. Red dots appeared more often than I've seen in other Fairs and probably a similar number of artists were there too, speaking for themselves and enthusiastically describing their artworks.
Treatment for Schizophrenia was still archaic in 1957 and Martin's diagnosis must have seemed heavy with the weight of the stigma of the day. As I sit here looking up at the studio she was brought back to after her hospitalisation and ECT treatment at Bellevue Hospital, I wonder how she found the emotional strength and tenacity to pick up a paintbrush again.
There is something so moving about walking up this street where she would have walked after she was released from hospital and that she walked down for the last time when she decided to leave The Slip for the last time. I suppose when we breathe the same air they did, it somehow brings us closer to them. I don't think I'll forget this afternoon for a long time.